Easy management of your website
In connection with the many web solutions we have developed, we have developed our own CMS, or Content Management System. Since we develop the system ourselves, we can easily get your web solution up and running, and manage the content yourself. There is an ongoing development of modules which can easily be adapted to your needs.
As your system becomes more advanced the administration system will keep up, and will become your hub for managing everything having to do with your system.
We offer free phone support, on weekdays from 8am to 5pm.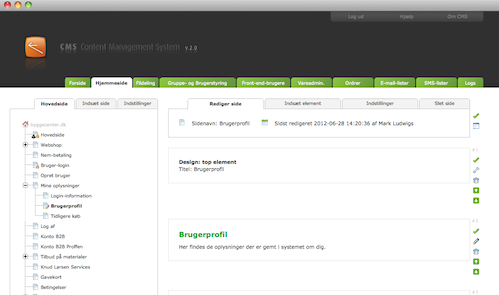 Worth knowing

User system
The CMS contains a user system for both your backend-brugere, dem der skal kunne tilgå administrationssitet, samt frontend-brugere, dem der benytter selve sitet.

Play around
Once your site has been set up in our CMS you can easily create new pages and maintain new ones.

Overview
With the hierarchical structure you get the ideal overview of your pages, groups, users and administrators and you can delegate different rights to administrators on different levels.

References
See our reference page for an overview of our many satisfied customers. You are welcome to contact us to get in contact with one of our customers, for them to tell you about the many splendors of our CMS.
Prices
CMS
From
/month ex. VAT

Establishment: DKK 10,000.-
ex. VAT

Modulær side-opbygning
Hierarkisk side-struktur
Hierarkisk bruger-administration
Inkl. opsætning af basis-design



Questions?
Let's have a look together
If you have any questions about the product, would like documentation or need something specific do not hesitate to contact us - we can find a solution together.


Expansions
Your project might benefit from our other products
Gruppe-SMS.dk
If you need a finished, advanced SMS solution you can use Gruppe-SMS. Here you can easily manage all your SMS solutions while maintaining an overview.

Data enrichment
If you are managing users, members and customers you can use data enrichment to ensure that you always have the correct data in your system.


Payment gate
From
/month ex. VAT

Establishment from: DKK 400,-
ex. VAT

Whether you are managing a web shop or have a physical store it should be easy to take payments. Here you can get a solution that can be used for most cases.


Anything else?
We can do that, too!
If you have any further needs, please contact us.
We do it all.